Stress is prevalent: its effects are far-reaching and it's on the rise. 
According to research by The American Institute of Stress, 40% of workers say their job is extremely stressful and 25% say work is their main stressor. Meanwhile, 75% of employees think today's workers experience more workplace stress than the previous generation. 
As businesses operating in the flexible workspace sector, aside from highlighting that the world of work has a huge problem on its hands, these statistics show us just how important wellness programmes and strategies are. 
Flexible workspace and coworking operators can have a huge impact on their members' sense of wellbeing. Many operators already can act as pioneers for workplace wellness by trailing new wellness strategies and showing companies how it's done. 
A third of our lives are spent at work and stress can knock years off people's lives. It's obvious that to make a positive contribution, every workspace needs to deliver on wellness!
What is wellness? A recap.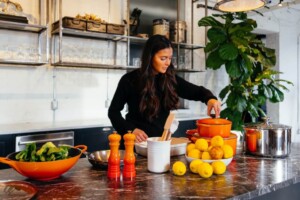 It's easy to think of wellness as a modern trend, but the concept has been around for thousands of years in some form or another. Wellness is all about practicing healthy habits regularly to achieve positive physical and mental health outcomes. 
The World Health Organization defines health as being "a state of complete physical, mental and social well-being and not merely the absence of disease or infirmity." 
Wellness is all about thriving rather than just surviving. In a workspace that disregards people's wellbeing, for instance, employees will just do what they can to get by, and often feel like they're only just able to cope. 
A well workspace, on the other hand, is one that gives employees the time, space and support they need to achieve a sense of balance. Workers feel productive and challenged but not overwhelmed. There are five key pillars to overall wellness:
1. Social connection
Connecting with other people can work wonders for both our physical and mental health. That's why coworking members often cite "being around other people" as their favourite perk. Wellness-focused workspaces do their best to facilitate interaction between members, whether it's through the way in which the space is designed or through social events. 
2. Physical exercise
Everyone should aim to do some form of physical exercise daily. 
As well as the obvious physical benefits, regular exercise makes us feel "well" in every sense of the word. It can be hard to fit exercise in around the rest of life's commitments though. Coworking members love yoga classes, running clubs and cycling infrastructure (such as showers and bike lockers) because it fits in with their routine.
3. Healthy diet 
A balanced diet is another key wellness pillar. A workspace that respects wellness provides plenty of healthy snack options, and the fruit bowl is never empty. That's not to say doughnuts and biscuits are completely off the menu – "everything in moderation", as the saying goes!
4. Shut eye
Great coffee is the cornerstone of any great flexible workspace. But it can wreak havoc with sleep when consumed after midday. Sleep-conscious coworking spaces consider members' sleep hygiene by providing decaffeinated tea and coffee options.
5. Mindfulness
It can be hard to be mindful when there's so much happening. 
Mindfulness is all about recentering by paying closer attention to thoughts, feelings and goings-on in the present moment. Does your coworking space encourage people to focus on the present? Without further ado, let's take a look at some that do…
5 wellness-centric workspace examples
1. Mosaic
themosaic.in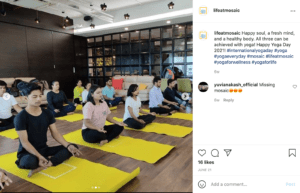 Situated in Mumbai, Mosaic "supports the growth of your body, mind and soul" and "focuses on the 'being along' with the 'doing'." Members have the opportunity to set work aside and partake in Tai Chi, Sadhguru's Isha Yoga and meditation sessions.
Mosaic also runs a stress management programme comprising meditation sessions, massages from trained masseuses and dance sessions that allow members to vent their stress and anxiety in a constructive and productive way.
2. Primary
liveprimary.com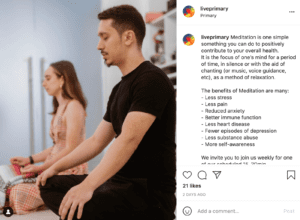 Primary in downtown NYC describes itself as a professional and mindful workspace that embraces a simple design aesthetic. The interior space, which is adorned with moss walls, fresh flowers and other plants, offers a mindful oasis in the middle of the bustling city. 
You only have to glance at the events calendar to see how dedicated Primary is to helping its members feel at their best. Different types of yoga, HIT strength classes and pilates are on offer. EmPOWER yoga focuses on strength building and can lead to improved mental clarity, self-awareness, concentration and focus.
Instagram: @liveprimary
3. Fora 
foraspace.com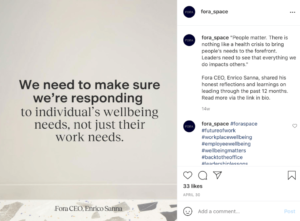 Fora, a flexible workspace operator that runs several spaces across London, is dedicated to nurturing different aspects of wellbeing that focus on the "whole" person. (In other words, the mind, body and the soul.) Its list of resident wellness perks is pretty extensive, but here are a few that look particularly interesting:
Mental Wealth Series by Champs Consultancy – founded on the principles of Positive Organisational Psychology & Behaviour, this "looks at life in an engaging and fun way, believing that whilst change can be difficult, it should never be boring."

Therapy & Psychological Services – Fora residents can gain access to video therapy sessions on a subscription or pay-as-you-go basis through Medi-Pod.

Wellness Studios – each of Fora's locations has its own tier 1 fitness centre with aerobic cardio machines, adjustable weights bench, dumbbells, tension exercise bands, a Swiss ball, Yoga mats & blocks. Tier 2 Wellness Studios include TRX suspension training, squat racks, a double cable machine and ski trainer.

The GP Service – residents get a discount on The GP Service web platform and app, which allows users to connect with an NHS GP immediately.
Instagram: @fora_space
4. WOOD
woodinlisbon.com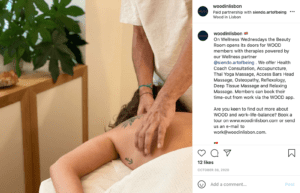 WOOD in Lisbon is a "feel-good" space. It has partnered with Siendo Studio, which is "directed by recognized health professional Margaret Rosania to provide our members with the best yoga and health practices, specifically enhanced for a work-based environment."
The roster of well being-focused perks and amenities includes a health history consultation, meditation sessions, beauty services, yoga, massages, aromatherapy and more. 
Instagram: @woodlinlisbon
5. Workbar
Workbar.com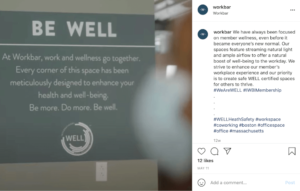 Workbar runs a variety of workspaces in the US that combine luxury with convenience – an approach that is designed to help members – which include freelancers and larger teams – feel productive yet cared for.
Its Boston location is described as a "wellness focused workspace in the heart of Back Bay" and features big windows that let in lots of natural sunlight. The operator's buildings have achieved WELL Certification. WELL is a leading tool for advancing health and well-being in buildings globally. 
Instagram: @workbar
Originally published – read more
Originally published by Kate Tattersfield on Aug 12, 2021