Image Credits: Annie Spratt/Unsplash
Coworking is one of the best workplace alternatives for self-employed entrepreneurs or those who want to take a "little escape" from the home office. It is a shared space with rent defined per month, if you want to go every weekday or several times a week; or hourly, if the intention is to use the place only on special occasions. Economy and practicality are some of its advantages, while lack of privacy and flexibility arise as problems.
Coworkings adapt to hybrid work and recover market
Digital nomads: new fashion for professionals is to make the world their office
Hub will accelerate 10 startups that will help the pub sector recover 
Here in Brazil, the trend emerged in mid-2008, with the first coworkings appearing in São Paulo. According to a 2019 survey by the Coworking Brasil website, there were at the time 1,497 shared offices in Brazil. Many of them are sites run by an independent company, while others run on accelerators and innovation hubs to house startup startups. 
This sector was heavily impacted by the covid pandemic. This market lost around 53% of sales during the height of quarantine in 2020. Despite this, there was an average reduction of 38% in total canceled contracts, a slightly lower percentage. Many of these spaces had to appeal not to close, such as discounts to convince coworkers to stay; grace period for the payment of monthly fees; payment in installments of outstanding amounts and dilution of the following; and coupons referring to amounts already paid that could be used in the future. The data are also from Cocoking Brasil.
Get to know in detail some of the pros and cons of coworking to make the best choice when working.
Benefits
Cost savings
The costs to set up and rent an office are very high. If you want to enjoy a place with a style and structure similar to an office, coworking serves this purpose well, and costs much less than maintaining a fixed location. In Brazil, an individual workstation in a shared space costs an average of R$650 per month.
More flexibility
If you don't want to pay by the month because you won't be using the space every day, you can use it by the hour. You can use — and pay — by the hour from shared rooms and tables for multiple people when renting just one meeting room. Just remember that the hourly rate is usually proportionally more expensive than the monthly fee.
Less bureaucracy
It's not just the costs that bother you when setting up your own office. The bureaucracy too: getting all the paperwork to regulate the location as a company headquarters can be a little tiring. Coworking doesn't do without any of this if you are a mere coworker: just a quick registration, pay for the desired time and work. You can also change the time spent mode according to your needs and budget.
Structure ready with ease
Setting up an office or even creating a home working environment also requires attention: buying the right furniture, lighting infrastructure, air conditioning, internet, bathrooms, audiovisual structure for meetings, etc. A good coworking already has everything ready to use and with constant maintenance.
Networking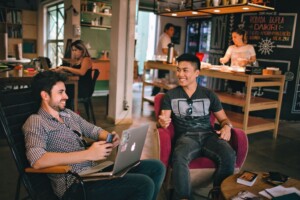 This is one of the biggest advantages for the more sociable: going to a coworking event means having the chance to meet professionals from different areas who are also coworkers. You can exchange experiences with them, expand your network of contacts and even look for interesting work partnerships.
"Business address"
If you don't feel comfortable spreading your home address around on your business card, coworking can be an interesting alternative when you don't have your own office. You can receive future customers in an environment prepared for this, without counting distractions like your dog barking for food.
Disadvantages
Lack of privacy
In an own office, who enters and leaves there, or even future agreements and contracts discussed, remain an internal matter. If you work in a coworking, you are liable to have strange people watching and paying attention to your movements and professional conversations.
Excessive noise
This is a problem that basically depends on who uses coworking, but it can happen. Some coworkers may speak louder or have a more indiscreet work demeanor than other regulars. With that, the distractions risk to be constant.
Less time flexibility
The vast majority of shared spaces are open during business hours; that is, from Monday to Friday, from 8 am to 7 pm at the latest. If you're in the work-while-they-sleep group and prefer to stay overnight or stretch your job on the weekend, you'll need to play this part at home.
Displacement
Okay, coworking can be pretty cool, but let's face it: there's no place like home, as Dorothy Gale would say in "The Wizard of Oz." If you're a guy very used to the comfort and privacy of your apartment, with the right to work in your pajamas and eat snacks with any smell, and above all you're too lazy to go to work, it's best to forget about coworking.
Space will never be yours
Also in the previous topic, in your home you have full control of how and where to store your things. Even in a company office you can have a drawer with a key of your own. But in many coworkings it is not possible to store expensive work objects or customize the place with all the freedom and security possible. After all, you are there sharing the space with many strangers who also need it. Therefore, it always needs to be clean and free from knickknacks.
Source: Cowoking Brasil (1, 2), Visa, Egestor, Abertura Simples 

Originally published in portugues – read original publication
Originally published by By Márcio Padrão | Edited by Claudio Yuge | November 2, 2021 at 10:00 am